The much anticipated album from indie rock "super group" Wild Flag has finally arrived, giving everyone something to shout about. One could practically hear the reviewers proclaiming the, at that point unnamed project, "Best of the Year" after Carrie Brownstein announced that she was leaving her post at NPR. It was decided a priori that this group was going to be amazing. I don't want to start to sound like I totally disagree with the excitement that is surrounding this group, I just am shuddering slightly at the nepotism of the scene.
Luckily for Wild Flag they have released an album that is capable of supporting all of the buzz that has been generated on its behalf. A backwards approach, but that isn't their fault. From my point of view it seems as if they are starting from as new a place as they can. They can't help that they were in Sleater-Kinney, Helium and a bunch of other more under-appreciated bands, and why would they want to? It's that experience that no doubt influenced the formation of Wild Flag and the production of their solid debut album.
Carrie Brownstein and Janet Weiss, formerly of Sleater-Kinney, are joined by Mary Timony on vocals and guitar and Rebecca Cole on keys to create a powerful guitar driven rock sound that seems to be influenced by the spontaneity of live performance. The album's 10 tracks capture the rough around the edges sound of an experienced live band. Despite their only having been together as Wild Flag for about a year it is clear that their collective experience is guiding their way. This album definitely does not sound like a debut. It is a focused and confident release.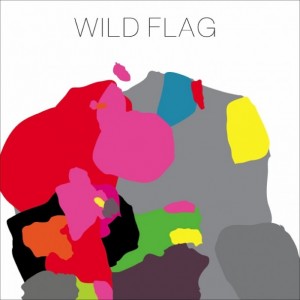 "Glass Tambourine" and "Racehorse" are two of the more experimental and lengthy jams while "Endless Talk" is reminiscent of The Cars with Brownstein's sharp, clipped vocals matching to a degree those of Ric Ocasek while her guitar work adds a bit of a more abrasive tone over top. "Short Version" gets right to the point, full steam ahead with blistering guitar riffs cutting through the silence.
Throughout the album Timony's vocals are contrasted sharply by Brownstein's. Where Timony's voice has a more natural and relaxed sound Brownstein's delivery sounds purposefully forceful. Her guitar style matches her vocal delivery in that it seems to cut sharp angles against the rest of the band. It's the difference between a song like "Electric Band" and "Future Crimes". An exciting album from one of the most talked about bands of the year. Thankfully the music seems to match the hype, for once.