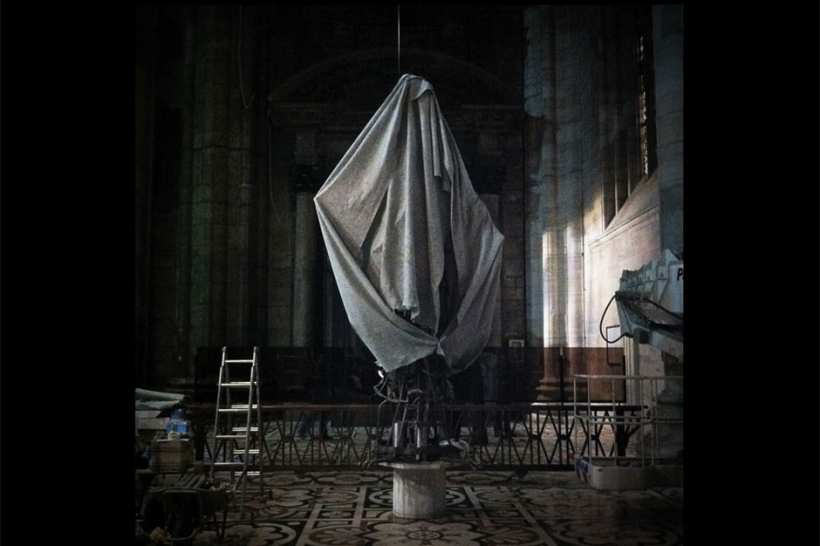 A few weeks ago I talked a bit about one particular track from Tim Hecker's latest album, but now that I have had the chance to spend some time with it I feel that I can give it the proper review that it deserves.
There is more of a focus on not only the ambient sound that envelops the music, but also on percussive effects and layered timbres. Now, when I say "percussive effects" I guess what I am really getting at is that the sound of piano keys is recorded such that one can actually hear the striking of the string.
Hecker leaves some mysterious clues for us as audience to piece together, or at least some things that we should think about, not just as we listen, but things that we should think about the world around us. I'm not saying that each of these tracks are tone-poems by any means, though perhaps that is the way that Hecker composed them. There are a few questions raised in at least a few of the songs.
I've already talked about the track "Live Room" in some detail. The main point that I made was that by using Steve Reich's motive from "Piano Phase" as source material, though detached and disjunct he was demanding us as listeners to think about the connections between that early minimalist piece and "Live Room." Considering that could result in any number of conclusions.
Though that is only the beginning of the trail that is left for us. There are also the implications of the cover image that seems to allude to an famous picture of a prisoner being tortured at Abu Ghraib. It's not very much of a stretch to see that those two photos are related, though Hecker places his figure inside what looks to be a church. Several things come to mind when this is investigated further. Obviously there is the surface level implication of modeling the album art after a picture with such loaded, dark and heavy implications. As soon as you notice it, it's going to conjure up all sorts of thoughts. Perhaps you had forgotten all about Abu Ghraib, or maybe you mistook that for something that happened at Guantanamo. Either way, you are going to come to a shocking realization that both of those things happened/are happening. Right now. We live in a world that allows those things to happen.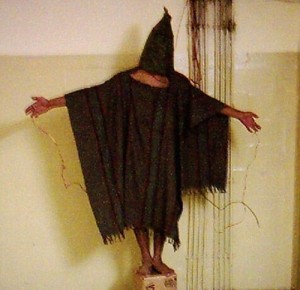 Then there is the fact that the album is called "Virgins" and the album cover seems to place this figure inside a church. The prisoner's pose, as well as the figure on the cover, are like that of Christ on the cross. And all of this combined with the fact that songs have been given titles such as "Incense at Abu Ghraib," "Stigmata I," "Stigmata II," and going with the latter two – "Stab Variation" that closes out the album.
That's a lot to consider and we haven't even started thinking about the music.
Hecker is at the helm of a larger, more varied sound palette throughout "Virgins." Sudden shifts in timbre and dynamics intercut with his usual, decidedly ambient sound. The percussive nature of the piano is really brought out in the tracks "Virginal I" and "Virginal II," where it is found to weave in and out of focus first in front of any drones and then behind them. Though, in "Virginal II" the minimalist piano percussives become a static pattern, though a bit off kilter in the same manner as "Live Room." The mixed timbres and layered lines creates a crystalline shimmer like perpetually shattering glass, before a thick, low square-wave synth comes in toward the end. Again, the palette of evolving timbres as a compositional device is evident.



"Prisms" comes careening into view as the opening track, immediately bringing to our attention dense harmonies, motion and shifts in timbre. It's the set up to "Virginal I," where the piano comes into play. "Radiance," "Live Room," and "Live Room Out" work as a nice parenthetical aside between the "Virginals." A nice little trilogy that restates the opening idea of the album.
The piano returns on "Black Refraction," though (again) with a different timbre than before. This time the bare piano is played sans all harshness, sostenuto, with the overtones collecting in the lower register over a repeated pattern. Minimalist repetition seems the M.O. across many of the tracks on "Virgins," but there is great care taken to break down the patterns, cut out parts, divide them up into smaller pieces that are then repurposed, electronically manipulated (there are some pitches that are synthetically drawn out for emphasis on "Black Refraction," allowing certain lines to be brought out in a different way without necessarily changing anything musically, only changing the timbre) buried and then brought back.
Closing the album with "Stigmata I," "Stigmata II" and "Stab Variation" (the last of which I can't help but think is another reference to help create the image of Christ on the cross with the stigmata being related to the violence of being nailed to the cross) just brings us back full circle. We are still left to wonder what the connotations of the music and imagery that is put forth on this album could ultimately mean. As "Stab Variation" comes to a close, is that the vague remnants of Reich's theme buried in the background? Does the minimalist repetition go with the torture and christ imagery in an effort to say that this isn't the first time that humans have brought upon horrible atrocities to other humans, and this won't be the last? Is it that we are forever doomed to a never ending cycle only periodically broken? There are any number of unanswerable questions raised throughout this album. It's up to us to decide what it all means.
The album is set for official release on October 14 as a CD or double LP and can be pre-ordered through Kranky (Kranky 153) by following the link at the bottom of the post:
Catch Tim Hecker live, currently out on tour:
December 14 / Chicago, IL / Constellation
December 8 / Rio de Janeiro, Brazil / Oi Futuro
November 16 / Minneapolis, MN / Walker Art Center
November 8 / Seattle, WA / Chapel Performance Space
November 6 / Los Angeles, CA / Human Resources
October 31 / Paris, France / Théâtre du Châtelet (TBC)
October 17 / Vancouver, Canada / Vancouver New Music Festival
October 12 / Chicago, IL / TBC
October 5 / Essen, Germany / Denovali Swingfest / Weststadt Halle
October 4 / Milano, Italy / Centro Culturale San Fedele
October 2 / Bologna, Italy / Palazzo Re Enzo
Web//Kranky Records//Twitter//