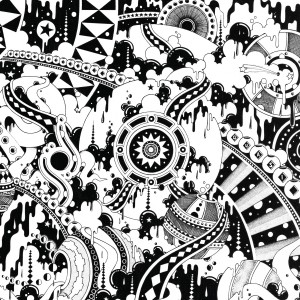 Anyone that has been paying attention to this blog for the past couple of months already knows that I have been eagerly waiting for this album to come out.
Well, tomorrow is the day that Kill Rock Stars will officially release Quasi's 9th studio album. "Mole City" is not only the band's 9th studio album, but also an album released on their 20th year as a band.
The album is stacked, for starters. Not including the bonus EP of cover songs that comes along with the album there are 24 tracks spanning over an hour of music. Right out of the gate after the brief initial organ solo opening of "*," the track "You Can Stay But You Gotta Go" begins with a low rumble and charges through with ultra-fuzzed, guitar that (I think) has been run through a whammy pedal, or something similar, to send the pitch down an octave. I mean, it could be a bass guitar, but there are times when the line goes above the range of the bass…of course I could be wrong.
Anyway, that's not the point. I'm getting off track here. The album amps up Quasi's early rock influence with several tracks built upon a bar-room piano riff foundation overtop of which squealing, howling guitar noise is placed. This is exactly the structure of "Fat Fanny Land," with the added shuffling backbeat laid down by Weiss. It's built on a standard 12-bar blues form, with Coomes' vocals and rhodes piano adding a nice dose of grit to the mix. And there's even more blues piano on "Headshrinker," which presents an interesting case. The song builds so slowly, taking the majority of its 4-plus minutes to get to it's wildest. And what is done during that slow, steady build is even more interesting (to me at least) in that this build consists entirely of one chord. When the Brian May type doubled guitar sol enters toward the end of the song it's a real breath of fresh air. That solo is also the only part of the song that really moves away from the primary chord.
That's quite a feat. It's a challenging thing to create a song on a single premise without straying from that idea or adding to it while at the same time holding interest, avoiding monotony. Coomes and Weiss, however, manage this with relative ease.

There are some other blues based rockers, such as "Nostalgia Kills," a song that also benefits from the slap-back echo on the vocals. "Nostalgia Kills" would be right at home on classic rock radio, with a guitar riff that sounds like something straight out of Molly Hatchet, or Lynyrd Skynyrd. Another country/blues guitar jam, "Bedbug Town," features the spot on harmonies of Janet. Their voices work so perfectly together, and Weiss' harmonies are always spot on. Speaking of Weiss' voice, she has the chance to take center stage, singing the lone vocal on track "R.I.P," with only a country style finger picked steel string guitar. Later in the album the track "One and Done" matches the sound of "R.I.P" with its quick guitar work in a similar finger-picked style, though this time considerably brighter with the addition of the slide guitar doubling.
Because of their inclusion of the honky-tonk style piano and ultra fuzzed out guitars or the distorted Rhodes, those songs often sound like they are coming out of a saloon in the wild west on acid. Though, lyrically, the songs are often dark and/or heartbreaking. That darkness is often hidden behind bouncy piano lines and early blues rock guitar hooks. In "The Goat" Coomes sings, "where's the crime in tryin' to get you to love me again?…I'll be the goat if it makes it any better," obscured in exactly this way. There are moments, such as in "Geraldine," where the darkness is let to sound loud and clear.
Short bursts of noise such as "*," "Chrome Duck," and the sound collage of "Mole City" break the album up nicely, serving to create convenient divisions in the album that serve as waypoints guiding the listener through the album.
Finally, the addition of the covers EP (available to those that pre-ordered "Mole City") makes total sense in creating the connections between the Quasi sound with bands like Queen and Black Sabbath, as well as Marvin Gaye and Nick Lowe. Come to think of it though, after listening to the dark lyrics of the preceding album Queen's lyrics "don't stop me now, I'm havin' a good time, havin' a good time" can't help themselves but sound a bit ironic. But anyway, if you haven't heard their cover of "Heaven and Hell" that appeared as a bonus track on 2010's "American Gong," then do yourself a favor and check that one out. Janet's ability to replicate Keith Moon's style couldn't be closer to perfection.
Mole City is out October 1st (ie tomrrow) on Kill Rock Stars and can be found at your local independent record store or at the link below. The album is available on vinyl (coke-bottle clear while supplies last, otherwise black) CD or as a digital download.
Kill Rock Stars//Web//Facebook//Myspace//
The band will tour across the US, Canada and Europe beginning October 3rd. Click the "Kill Rock Stars" link above for dates.