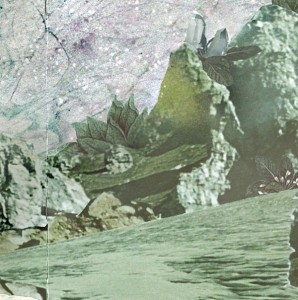 From Portland, Oregon's Field Hymns Records, Foton has produced an album full of electronic, mostly ambient sounds that fall somewhere between Boards of Canada and more experimental, free-form soundscapes that are (what I imagine to be) like field recordings from a trip to Mars.
Melodies and pulse fall in and out of focus across much of the 30 minute album. For example "There Was the Ruby Glade" keeps trying to leave the ground but sputters into Wagon Christ territory before concluding. Instead of one solid structure, or one solid idea, we have fragments of surging electronics that glitch and buzz, held together by droning ambience.
"Slope 7F" provides the longest melodic line of any of the songs that hauntingly rings out unsupported by any harmony before the sound of a pipe organ comes crashing through in a swell of sound, that again is cut off completely. The song builds and falls continually leaving the listener hanging, before the lengthy melody returns only to be defeated by scratches of howling distortion and drums. This is probably the finest song on the album.
The closing track, a 15-minute magnum opus of pure, throbbing, ambient sound that builds to a loud organ sound once again, retaining the same harmony throughout and eventually fading away after several shifts in timbre. What's interesting here is not so much what happens structure wise across the sprawl of 15 minutes, but it's what happens timbre wise that changes the almost physical shape of the sound that emerges. The form is not in the division of sections here, because there is only one part, rather the form lies in how the pitch envelope is shifted slightly over that time.
This album is an interesting experiment in sound, creating shifting ambient soundscapes that aren't afraid of straying from that archetype to allow melody and pulse emerge if need be.
Head to the Field Hymns page for Foton to purchase this release (out now!) for only $6, or click through the bandcamp link below. The album is being released on a limited edition of 100 cassettes, so don't delay. Instant download upon purchase.